[7270] NYC SUBWAY BMT AB STANDARD CONDUCTOR BUTTON BOARD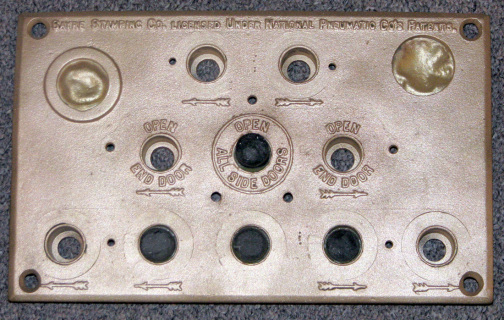 Offered for sale here is an original NEW YORK MUNICIPAL SUBWAY BRT/BMT STANDARD CONDUCTOR'S BUTTON BOARD. The BMT Standards were ordered under the New York Municipal Railway and received beginning in 1914. There were several variations of these conductor's boards. This particular board came from a car built by ACF, American Car and Foundry.

When the Standards were placed in service in 1914 they did not have Multi Unit Door Controls (MUDC) and all cars were "A" cars, having a Motorman's cab at each end, and two conductor positions (one on each side of the car). There was a conductor in each car and that conductor operated the doors in that car only.

In the early 1920,s the privately owned Brooklyn Rapid Transit Company (BRT) and its successor the Brooklyn Manhattan Transit Company (BMT) converted these cars into Multi Unit Door operation. This would enable the doors on the entire train to be controlled by one Conductor.

Among others, three car "B" units were created. The "B" consisted of two cars on each end with a Motorman's cab and controls, and a "master car" in the middle where the Conductor's position would control the other two cars. On the other two cars, the Conductor positions were deactivated.

The master car had the working Conductor's board. A Conductor's indication (indicates that all doors on that side of the car are closed) was placed in the upper right hand side of the board. This board came from one of the deactivated positions on one of the "A" cars. The sealed hole in the upper right hand corner (not the mounting hole) indicates this car was at one time set up for MUDC operation and later deactivaed. These control boards were altered in several different ways. Here we have the four remaining buttons in a fixed position and can no longer operate. Sometimes the buttons would be cut down level with the surface of the board.

This is the first time I have ever seen a Conductor's board offered for sale. This is a VERY RARE collectible and will make a terrific addition to a collection. This piece has been glass beaded and is in excellent condition.