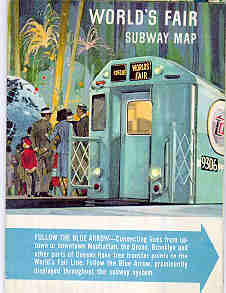 _1964 WORLDS FAIR NEW YORK CITY SUBWAY MAP
SKU:
_
This is a 1964 World's Fair Subway map published by the New York City Transit Authority. This pocket size map when opened
measures approximately 15 1/2 inches wide by 18 1/2 inches high. One side shows the subway map of the IRT, BMT, and IND lines and boroughs in eight colors. The map highlights in a band of blue color the subway path from Times Square, New York to the World's Fair in Queens. The back of the map shows an enlarged view of midtown Manhattan transit lines with a blue arrow traveling to an adjacent aerial drawing of the fairgrounds with all the exhibits
labeled. There is also information regarding Highlights of the World's Fair, the World's Fair Special Subway Cars, Shea Stadium, and the Safest Passenger Railroad in the World. This side of the map shows up to ten colors. This 47 year old map is in MINT-NEVER OPENED condition.