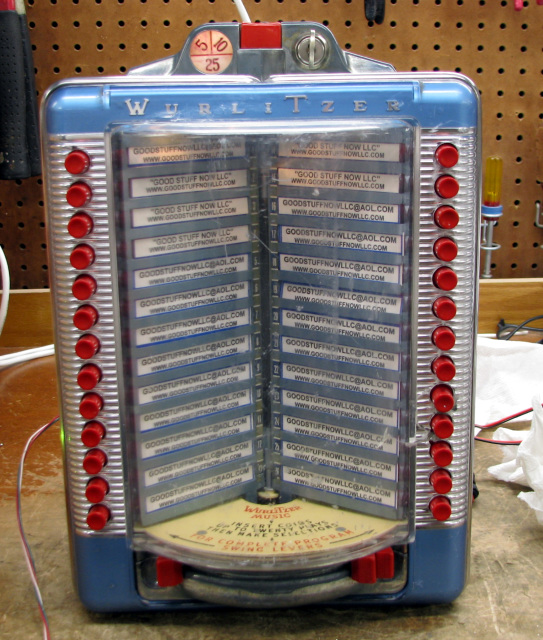 WURLITZER 5204 - STOCK #5581
SKU:
Here is a very nice, original 104 select 1952 Wurlitzer wallbox in above average condition. The 5204 wallboxes are VERY hard to find in any condition.
This wallbox was cleaned and restored in working condition. It was thoroughly washed with hot water and degreasing detergent. There is no nicotine residue. This unit has been tested and makes all proper 104 selections. This unit is ready to be connected to a jukebox with the proper stepper, WURLITZER 252 ONLY. DATA SYNC ENGINEERING IS PRESENTLY WORKING ON ADDING THIS TYPE WALLBOX TO THEIR SYSTEM.
Original lock and key are included and in working order.
This wallbox is 100% complete with all coin equipment except for the cash box which is a reproduction. It takes Nickels, Dimes and Quarters. It is set on the factory setting of ONE PLAY for a NICKEL, TWO PLAYS for a DIME and FIVE PLAYS for a QUARTER.
A free play momentary switch has been added and pressing the button is equivalent to dropping a nickel
The cover is in very condition for a Wurlitzer 5204 cover. However it has multiple cracks in the plastic in particular where the buttons are. (see pictures or email or call for a more detailed description). There are also scratches in the plexiglass dome (part of the cover) and these have been polished out as best as possible. The chrome is in GOOD condition.
The nickel finish on the top has been polished and shows signs of wear for a wallbox produced over 60 years ago.
ADDITIONAL INFORMATION
The Wurlitzer 5204 wallbox is a VERY rare and hard to find item with a production estimate of approximately three thousand. The cover is made of gorgeous metal and iridescent powder blue and silver plexiglass case and has "see deep" decorations with red tenite buttons. There are four rotating panels like the pages in a book lettered A, B, C and D. Each panel lists 13 tunes per left and right side (26 songs visible at a time) that line up with the push buttons.
It was produced in 1952 specifically for the Wurlitzer 1500 and 1550 Jukeboxes. It was the first 104 selection wallbox (first year of production). This wallbox was designed to operate with the Wurlitzer 252 steppers.
It was patterned after the 3020 wallbox which had 24 selections and operated with 110 VAC. The 5204 uses SEVEN wires and low voltage, 24 VAC.
It incorporates the old style "coin grinder" type of accumulating credits. When a coin is deposited it is held in place to calculate the proper number of credits to be established requiring a complete cycle with no signal output and then releases the coin into the coin box. Once credits are established (up to 20) the wallbox will send out a signal when any of the 26 buttons is pressed and continue to hold credits until exhausted.
1952 Model 1500 and 1550 Jukeboxes, Model 5204 wallbox
1953 Model 1500A and 1550A Jukeboxes, Model 5204A or 5205 wallbox
1954 Model 1700 jukebox, Model 5205 wallbox
1955 Model 1800 jukebox, Model 5207 wallbox
The 1500 and 1500A (A denotes second year of production) had the same cabinet (polished walnut wood finish) except that the 1500A's switched from the three point caster system to the four point caster system. The 1550 and 1550A incorporated a "TEXILEATHER" vinyl finish available in blue, blonde or mahogany.
THE 1500 and 1500A are NOT electrically compatible. The 5204 and the 5204A Wallboxes have different pulse trains AND CANNOT BE USED INTERCHANGEABLY.