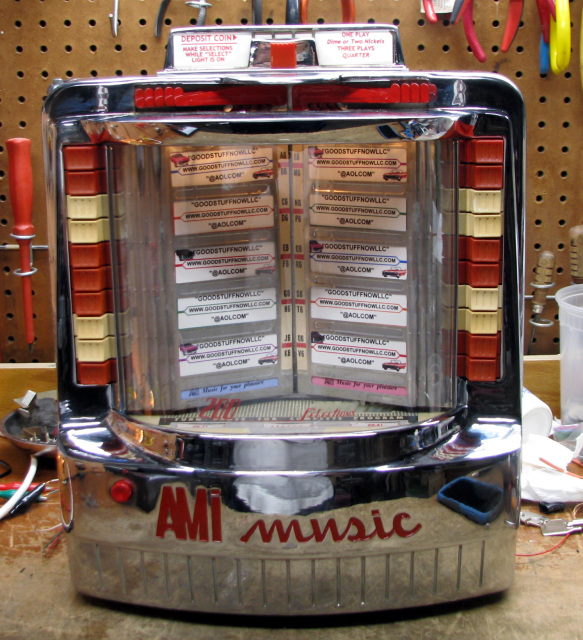 AMI WQ-200 STOCK #5301
SKU:
This is an0 AMI WALLBOX, MODEL WQ-200 that was cleaned and restored in working condition. It was thoroughly washed with hot water and degreasing detergent. There is no nicotine residue. The unit was tested and makes all proper 200 selections. This unit is ready to be connected to a jukebox with the proper stepper or can be connected to an ipod or any home stereo with the Data Sync Wallbox Player System.

​This wallbox is complete with all coin equipment. The coin box is from a W series wallbox and has been modified to fit the WQ. Installed is a "free play" wire with a toggle switch. When turned on the unit will accept selections without putting in any coins. To turn off, make any selection and immediately turn off the free play switch. The wallbox will then return to the home position and will be ready to accept any coins.

​This wallbox is presently set on ONE PLAY for either TWO NICKELS or ONE DIME, THREE PLAYS for a QUARTER. The coin instructions on the cover are matching.

The cover has been beautifully rechromed and repainted (AMI striping) and in very good condition with a stunning mirror like finish.

Front dome is plexiglass with decal. (they were never glass)

The original buttons were cleaned and buffed.

Replacement Cylinder Lock with key included and works perfectly and key can be removed in either the locked or open position.