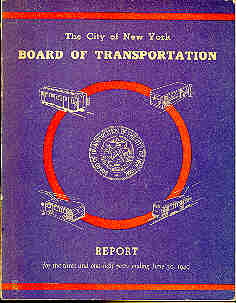 [7310] 1949 ANNUAL REPORT - BOARD OF TRANSPORTATON - CITY OF NEW YORK
SKU:
This is a city of New York, Board of Transportation report for the three and a half years ending June 30, 1949. This book is
about the New York City owned elevated and subway, trolley, bus and trolley coach rapid transit systems. This rare 8 1/2 by 11 inch book of expensive glossy stock paper has 111 pages of history, facts and figures, maps of the subway system and future plans, great photos of subway cars, tunnels, construction,
stations, power plants, trolleys, busses and shops. This collectible book was in dead storage and has never been opened.