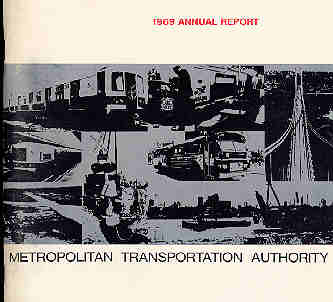 [7792]  1969 ANNUAL REPORT MTA NYC TRANSIT,SUBWAY,BUS
SKU:
This is a Metropolitan Transportation Authority Annual report for
1969. This FIRST EDITION annual report is about the newly formedMTA via State Legislature with its mandates to develop and
implement unified mass transportation policies for the NY State sector of the Metropolitan region. The MTA's broad responsibilities include the Long Island Rail Road, New York City Transit Authority, Manhattan and Bronx Surface Transit Operating Authority, Triborough Bridge and Tunnel Authority, with future assumption for responsibility for the Penn Central's Harlem, Hudson, and New Haven lines. This RARE 8 1/2 by 9 1/2 inch FIRST
EDITION report of 72 pages of quality paper has text, publicity photos, facts and figures, financial statements, and proposed future plans for the various transit systems of the Metro region. This collectible book is in MINT-NEVER OPENED condition.