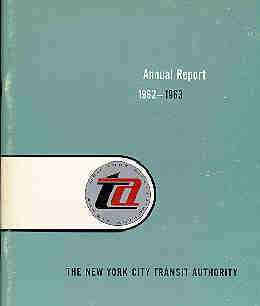 [7786]  1963 ANNUAL REPORT, NYC TRANSIT, SUBWAY, BUS
SKU:
This is a New York City Transit Authority Annual Report for the
year ending June 30, 1963, and the ten years - July 1, 1953 - June 30, 1963. This Annual Report book is about the New York City owned subway, elevated, and bus transit systems. This rare 8 1/2 by 11 inch book of quality paper has 47 pages of text, photographs and
maps comprising: Introduction; A brief History - 1868 to 1953; The
Ten Years 7/1/53 to 6/30/63; The Rapid Transit System; The Surface System; Personnel, Administration and Finance; Results of Operations; and Financial Statements. This collectible book is in MINT-NEVER OPENED CONDITION.