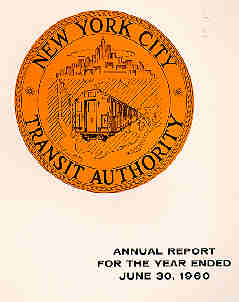 [7783]  1960 ANNUAL REPORT NYC TRANSIT, SUBWAY, BUS
SKU:
This is a New York City Transit Authority Annual Report for the
fiscal period July 1, 1959 to June 30, 1960. This report is
about the city owned subway and surface transit systems. This
RARE 8 1/2 by 11 inch book of expensive glossy stock paper has 32 pages of text comprising an introduction, plans and program,
results of operations, review of the year, facts and figures,
photographs, charts, and a system map. This collectible book is
in MINT-NEVER OPENED condition.