SEEBURG 3WA-160 RESTORED - ORIGINAL CHROME - STOCK #5114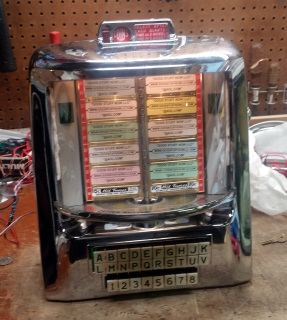 This is SEEBURG 3WA WALLBOX that was cleaned and restored in working condition. It was thoroughly washed with hot water and degreasing detergent. There is no nicotine residue. The unit has been tested and makes all proper 160 selections. This unit is ready to be connected to a jukebox with the proper stepper or can be connected to an ipod or any home stereo with the Data Sync Wallbox Player System.

Original lock and key are included and in working order.

This wallbox takes Nickels (two for one play), Dimes (1 play) and Quareters (3 plays). There is also a FREE PLAY switch installed. When the switch is closed the wallbox will continue on FREE PLAY (it will also take coins at this time too). To return to COIN PLAY simply open the switch after it begins to cycle to return to the at rest position.

The coin credit indicators at each side of the program holder will indicate MAKE ANY SELECTION (Upper left and right in green) when a credit is established (either by depositing coins or FREE PLAY).

The cover, cover ring, and top casting are ORIGINAL and have not been replated. (see pictures)

The buttons were cleaned and buffed.