SEEBURG 3W1 JUKEBOX WALLBOX RESTORED - STOCK #5026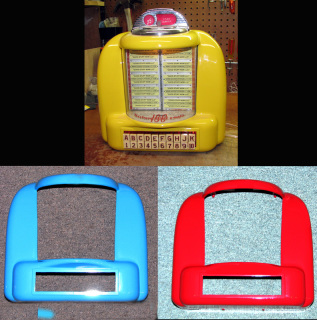 This is a SEEBURG 3W1 WALLBOX that was cleaned and restored in working condition. It was thoroughly washed with hot water and degreasing detergent. There is no nicotine residue. The unit has been tested and makes all proper 100 selections. This unit is ready to be connected to a jukebox with the proper stepper or can be connected to an ipod or any home stereo with the Data Sync Wallbox Player System.

It is wired with a "free play" wire that can be connected to a momentary push button and a push of the button will give ONE selection. If not wanted the wire can be removed or cut and taped.

The cover has been professionally painted and in very good condition. YOUR CHOICE of YELLOW, BLUE or RED. (see pictures) These covers are original "economy" covers. Seeburg offered a painted cover as opposed to a chromium cover at a cheaper price. They were made of a different metal and never pitted because they were never chrome plated. These covers are NOT the magnesium zinc alloy covers used during the Korean War conflict in 1953-1954. These covers can be chrome plated.

The buttons were cleaned and buffed. The pages are Silver anodized.

Lock and key (#S-174) are included and in working order. This wallbox is presently set to take Quarters for 4 plays. There are two more selonoids that were tested and work fine so that this wallbox can be set for up to six plays on one coin. Complete with all coin equipment.