SEEBURG 3W1 JUKEBOX WALLBOX RESTORED - STOCK #5032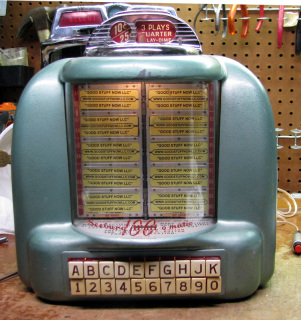 This is SEEBURG 3W1 WALLBOX that was cleaned and restored in working condition. It was thoroughly washed with hot water and degreasing detergent. There is no nicotine residue. The unit has been tested and makes all proper 100 selections. This unit is ready to be connected to a jukebox with the proper stepper or can be connected to an ipod or any home stereo with the Data Sync Wallbox Player System.

The cover is magniseum and ORIGINAL Seafoam green. The buttons were cleaned and buffed. The pages are Silver anodized.

Lock and key (#S-173) are included and in working order. This wallbox is presently set to take Quarters (3 plays) and Dimes (1 play). There are two more selonoids that were tested and work fine so that this wallbox can be set for up to six plays on one coin or can be reconfigured to accept nickels and dimes as well. Complete with all coin equipment. It can also be set up on free play.