AMI WALLBOX JUKEBOX MODEL W120 - RESTORED and RECHROMED - STOCK #5210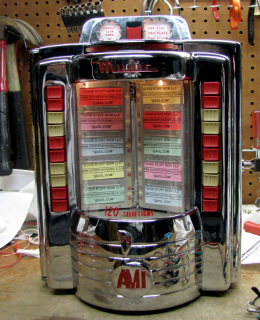 This is a AMI WALLBOX, MODEL 1546 that was cleaned and restored in working condition. It was thoroughly washed with hot water and degreasing detergent. There is no nicotine residue. The unit was tested and makes all proper 120 selections. This unit is ready to be connected to a jukebox with the proper stepper or can be connected to an ipod or any home stereo with the Data Sync Wallbox Player System.

This wallbox is complete with all coin equipment. Installed is a "free play" wire with a momentary switch. This would be the same as dropping a NICKEL and will give one play.

This wallbox is presently set on ONE PLAY for a NICKEL, TWO PLAYS for a DIME and THREE PLAYS for a QUARTER. The coin instructions on the cover are matching.

The cover has been beautifully rechromed and repainted (AMI striping) and in very good condition.

Front dome is plexiglass with silk screened lettering. (they were never glass)

The original buttons were cleaned and buffed.

Replacement Cylinder Lock with key included and works perfectly.

We can email a PDF of the service manual if requested.