SEEBURG 3W1 JUKEBOX WALLBOX RESTORED, RECHROMED - STOCK #5242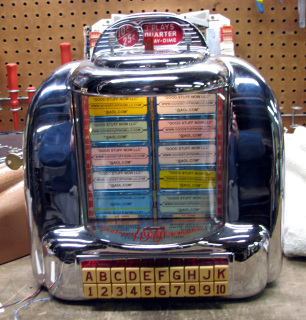 This is SEEBURG 3W1 WALLBOX that was cleaned and restored in working condition. It was thoroughly washed with hot water and degreasing detergent. There is no nicotine residue. The unit has been tested and makes all proper 100 selections. This unit is ready to be connected to a jukebox with the proper stepper or can be connected to an ipod or any home stereo with the Data Sync Wallbox Player System.

The cover has been rechromed and in EXCELLENT condition with the exception of a crack in the lower right corner. (see last two pictures). This cover is in such good condition it would be a shame not to use it because of the crack.

The buttons were cleaned and buffed. The pages are Blue anodized and are of the later production (3W100) with tabs that make it easier to get on and off. There are also two #55 lights on the page sets.

Original lock and key are included and in working order. This wallbox is presently set to take Dimes (1 Play) and Quarters (3 Plays). Complete with all coin equipment. It is also wired with a free play switch. One press of the momentary switch gives ONE play.

This is one of the nicest Seeburg 3W1 Wallboxes you will ever see.

See something you don't like about a particular wallbox? Let us know and we can change out that part for you!