SUBWAY SNAPSHOTS and ELEVATED EPITAPHS VOL II - IRT ELEVATED - THE NORMAN ROLFE COLLECTION - RELEASE DATE 6/4/2016 - 428 PAGES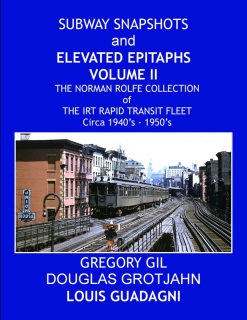 This book is a presentation of subway snapshots from the New York City Subway System and Elevated Lines. The photographs have been printed from original negatives. They are all black and white. There were several types of films used, some 35mm but mostly 120 and 620. The 120 negative is a 2 ¼ inch x 2 ¼ inch size and the 620 is 2 ½ inches by 3 ½ inches.

The negatives were processed using a high resolution scanner and transparency adapter. The quality has been enhanced to insure the optimum results. The cameras used are unknown. Some of the photographs were taken with "box" cameras, having a fixed lens and aperture. Unfortunately this results in a less than desirable quality. The subject matter of these photographs however, captures scenes that have long disappeared. Many are truly one of a kind snapshots.

Some of the photos are cropped to fit the best size relative to the subject matter. These original negatives are part of the author's collection and have never been printed before.

All of these negatives were stored in individual envelopes. The captions including the dates for the photographs presented in this book have been derived from these envelopes.

This book is arranged in car number order, with some exceptions as noted. In particular the #1300 series cars (some photographs out of numerical order) and cars #1771 and #1737 appear wit the #1300 series (The car numbers were written wrong on the original negative envelopes). The goal is to show each individual car and sometimes the photographs can be a bit repetitious. Some of the photographs are better than others and we tried not to exclude many and to print the collection in its entirety. Most of these photographs were taken by Norman Rolfe in the 1940's and printed from digital scans of the original negatives. Many of the envelopes containing these negatives had only a car number and date.

There has been much debate as to quality and quantity of many of the photographs in this book. It is duly noted the repetitiousness of the locations, cars, etc. Please keep in mind if these photographs were not printed and eliminated from the collection they would be lost forever.

Norman Rolfe was a retired electrical engineer who became a citizen advocate for public transit in the San Francisco Bay Area. He died on January 15, 2010. Mr. Rolfe traveled many cities throughout the United States (and abroad) taking countless photographs of various transit systems. There are some "copy negatives" from his collection dating to an earlier time and they are presented here as well because they are part of the "Norman Rolfe Collection".

The unknown photographer is a series of photographs presented here from the collection of Douglas Grotjahn.

We hope you enjoy this book!