SEEBURG JUKEBOX WALLBOX 3WA-200 - STOCK #5025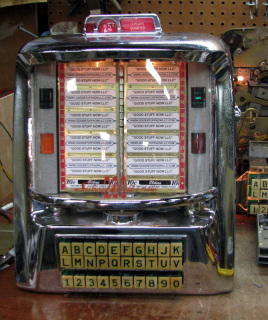 This is an ORIGINAL Seeburg Jukebox Wallbox, Model V-3WA-200.

This wallbox has been cleaned and restored in working condition. It has been thoroughly washed with hot water and degreasing detergent. There is no nicotine residue. The unit has been tested and makes all proper 200 selections. This unit is ready to be connected to a jukebox with the proper stepper or can be connected to an ipod or any home stereo with the Data Sync Wallbox Player System.

Dual Credit Unit DCU10

Lock and Key. Locking mechanism works smoothly.

Complete with coin equipment except for the coin tray this unit is set (original factory setting) on 1 credit for a Nickel, 2 credits for a Dime, and 6 credits for a Quarter. The cancel selonoid has been disconnected so that credits will not be removed after a selection is made, keeping the wallbox set to MAKE ANY SELECTION.

The cover is original chrome and can be upgraded to a replated chrome cover for an additional fee. Original Select-O-Matic glass.

The buttons are original and were buffed using a plastic rouge on a buffing wheel. This unit is over a half century old!

We have over 40 years experience working with Jukeboxes and Wallboxes, specializing in Seeburg and Wurlitzer Jukeboxes and Wallboxes.