SEEBURG 3WA JUKEBOX WALLBOX (V3WA) – Stock #5021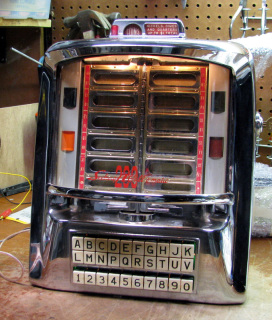 This is SEEBURG 3WA WALLBOX that was cleaned and restored in working condition. It was thoroughly washed with hot water and degreasing detergent. There is no nicotine residue. The unit has been tested and makes all proper 200 selections. This unit is ready to be connected to a jukebox with the proper stepper or can be connected to an ipod or any home stereo with the Data Sync Wallbox Player System.

Original lock and key are included and in working order.

This wallbox takes Quarters, Dimes and Nickels. Complete with all coin equipment. This wallbox is presently set up for DUAL PLAY. SINGLE SELECTIONS are set on ONE PLAY for TWO NICKELS or ONE DIME (two credits) and THREE PLAYS for ONE QUARTER (six credits). EP SELECTIONS are set on ONE PLAY for 15 cents (Dimes or Nickels) and TWO PLAYS for a QUARTER. It is very easy to price any set of pages for SINGLE or EP pricing (1-0). This is the factory setting for the DCU10 dual credit unit.

This wallbox has a "free play" wire. You can connect a momentary switch and when pressed is the equivalent of dropping a quarter.

The cover and top casting are original chrome and in EXCELLENT condition for its age of almost 60 years. The buttons were cleaned and buffed.