WURLITZER #5210 - STOCK #5013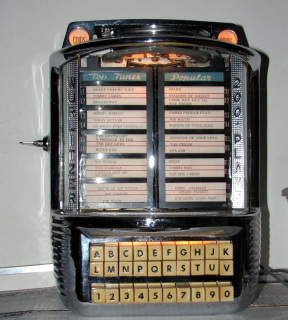 This is a WURLITZER 5210 wallbox, made in 1956 for the Centennial Model Wurlitzer 2000 jukebox. It was thoroughly washed with hot water and degreasing detergent. There is no nicotine residue. The unit has been in my collection, tested and makes all proper 200 selections. It has been connected to the Data Sync Wallbox Player System and works perfectly. This is the highly sought after early version with the white buttons and the double coin entry.

THIS WALLBOX IS ALL ORIGINAL, including the pages which have the ORIGINAL selections and in excellent condition. Included is a conversion chart to the newer style selections so that the wallbox can be used with either a jukebox or the Data Sync Wallbox Player System. (ex: A1/B0 = A1/B1).

The slug rejector takes all coins (Nickels, Dimes and Quarters) and has the diverter for Nickels. It is presently set on ONE PLAY for 10 cents (either a Dime or Two Nickels) and THREE PLAYS for a Quarter.

Wurlitzer produced the model 5210 wallbox in 1956 and 1957. The original wallboxes had white buttons (very rare) and were then produced with the green buttons (common). As far as wallboxes go, the model 5210 is rare in and of itself.

In 40 years of collecting, this particular wallbox is the lowest serial numbered I have ever seen. Wurlitzer's numbering system for serial numbers is chronological/production based on ALL of their products (Jukeboxes, Wallboxes, Speakers, Stepper Units, etc). They were grouped in thousands in the format of xxx,yyy. The xxx represents a product and the yyy the actual number. Generally when a model would be produced for more than one year (1015 Jukebox for example) a 1 or 2 would come in front of the number indicating first or second year of production.

According to a compilation of serial number databases, the 5210 wallboxes range in serial number from 276135 to 282769, with an estimated production of 6,900 and a known production of 6,635 units. Of these only a handful are known to have survived. This 5210 wallbox has a serial number lower than any other listed with matching numbers on both the tag and the upper casting.