WURLIZER 5210 WALLBOX (WURLITZER 2000 JUKEBOX) - STOCK #5143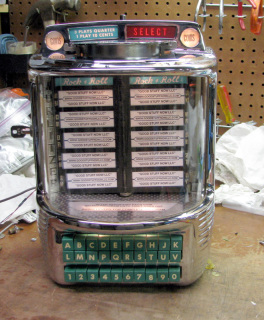 This is a WURLITZER 5210 wallbox, made in 1956 for the Centennial Model Wurlitzer 2000 jukebox. It was thoroughly washed with hot water and degreasing detergent. There is no nicotine residue. The unit has been in my collection, tested and makes all proper 200 selections. It has been connected to the Data Sync Wallbox Player System and works perfectly.

The cover is CHROME and has been re-plated and in excellent condition. The top castings have also been replated.

The buttons are original and have been cleaned and polished. Original Wurlitzer lock and key.

THIS WALLBOX IS ORIGINAL, including the pages which have the ORIGINAL selections and in excellent condition. Included is a conversion chart to the newer style selections so that the wallbox can be used with either a jukebox or the Data Sync Wallbox Player System. (ex: A1/B0 = A1/B1). Also available upon request is a set of conversion title strip letters that can be placed over the existing.

The slug rejector is presently set on ONE PLAY for a Dime and THREE PLAYS for a Quarter. A free play momentary switch has been added so that one press of the button is the equivalent of dropping in a dime.dStuffNowLLC.com. 718-855-1499.