WURLITZER JUKEBOX WALLBOX 5225A - RESTORED - Stock #5063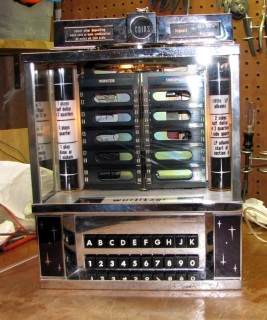 This is a Wurlitzer Model 5225A Wallbox that was cleaned and restored in working condition. It was thoroughly washed with hot water and degreasing detergent. There is no nicotine residue. The unit was tested and makes all proper 100 selections. This unit is ready to be connected to a jukebox with the proper stepper or can be connected to an ipod or any home stereo with the Data Sync Wallbox Player System.

This wallbox is complete with all coin equipment and also takes HALF DOLLARS. Installed is a "free play" wire (a momentary switch must be connected or we can do that for you). This would be the same as dropping a nickel and getting one play.


THIS WALLBOX has DUAL PRICING capability for selections A through D. That means any series of five records, ten selections, (letters A through D) can be set for either a "single" or "LP Album" selection. It has coin indication lights for "SELECT ANY ALBUM" and "SELECT ANY SINGLE".

The wallbox is presently set on all selections for a "single" play. It is very easily changed to a "LP Little Album" play as per instructions (takes about two minutes).

The cover is original chrome and in good condition for its use and age.

The original buttons were cleaned and buffed.

Cylinder Lock (just like the original) and two keys included.

Included are "LITTLE LP ALBUM" titlestrip holder inserts (for use at top of pages A through D when using Dual Pricing). Additional genre headings are also available. We can send a pdf or jpg. (see pictures).

We can email a PDF of the service manual if needed.