SEEBURG JUKEBOX WALLBOX 3WA-200-HD – STOCK #5118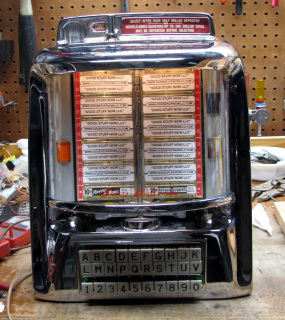 This is an ORIGINAL Seeburg Jukebox Wallbox, Model HD-3WA

Original lock and key

Dual Credit Unit DPU10-CODE B

100% Complete with all the coin equipment including slug rejector and coin tray. This unit is set on 1 credit for a Nickel, 2 credits for a Dime, and 6 credits for a Quarter and 14 credits for a HALF DOLLAR. (factory setting) This will allow either two nickels or a dime for a single selection (two credits) and a Quarter for three single selections.

SINGLE SELECTIONS are set on ONE PLAY for TWO NICKELS or ONE DIME (one credit), THREE PLAYS for ONE QUARTER (three credits).

EP SELECTIONS are set on ONE PLAY for 15 cents (Dimes or Nickels) and TWO PLAYS for a QUARTER. It is very easy to price any set of pages for SINGLE or EP pricing (1-0). This is the factory setting for the DCU10 dual credit unit.

The coin credit indicators at each side of the program holder will indicate "FIVE CENTS DEPOSITED, ANOTHER COIN REQUIRED" (lower right in red), MAKE TEN CENT SELECTION ONLY (lower left in orange) and MAKE ANY SELECTION (Upper left and right in green).

When dual pricing is enabled, the EP pricing is set at 15 cents for an "EP" selection or a quarter for two "EP" selections. A Half Dollar will register credits AFTER the first selection is made, totaling 14 credits. Selections must be made after depositing each half dollar.

The unit has been tested and makes all proper 200 selections. This unit is ready to be connected to a jukebox with the proper stepper or can be connected to an ipod or any home stereo with the Data Sync Wallbox Player System, sold separately.

Additionally this comes with a wired "free play" momentary switch. This puts on a single credit (equivalent of a nickel) each time it is pressed. The accumulator will hold up to fourteen credits (four quarters) at a time. If you do not want the free play switch disconnect the wires or tape them up.

The cover is chrome (rechromed) in EXCELLENT condition. It has glass, not plexiglass. The buttons are original and were buffed using a plastic rouge on a buffing wheel. This unit is over a half century old!