WURLITZER JUKEBOX WALLBOX 5205 – RESTORED and RECHROMED - Stock #5378 (Single [BLUE/GREEN] titlestrips)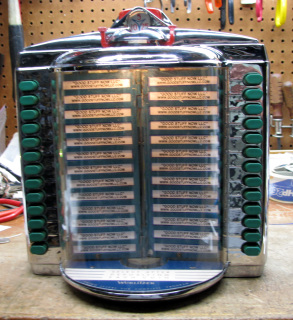 This is Wurlitzer Model 5205 Wallbox that was cleaned and restored in working condition. It was thoroughly washed with hot water and degreasing detergent. There is no nicotine residue. The unit has been tested and makes all proper 104 selections. This unit is ready to be connected to a jukebox with the proper stepper or can be connected to an ipod or any home stereo with the Data Sync Wallbox Player System.

The Wurlitzer 5205 wallbox was specifically designed for the Wurlitzer 1700 jukebox. The 1700's originally came with single titlestrip holders (78 rpm style) and then later they were equipped with the double titlestrip holders. This wallbox has the original BLUE/GREEN single titlestrips.

This wallbox is complete with all coin equipment including the correct slug rejector with coin gate. The coin gate on the slug rejector was first introduced with the Wurlitzer 1100 jukebox and is activated when a coin is inserted and there is a credit. This prevents coins from getting jammed in the chute by routing all coins to the coin return whenever there is a credit established on the wallbox.

It is presently set for 1 PLAY for a NICKEL, 2 PLAYS for a DIME and 5 PLAYS for a QUARTER. There is also a free play switch installed. Turn on the switch and the wallbox will operate on free play. Turn the switch off immediately after the wallbox begins to cycle and the wallbox will operate with coins. Can be custom set for pricing.

The cover has new replated chrome and in excellent condition with the exception of a small hole when the cover was being replated. (see last picture)

The buttons were cleaned and buffed.

Replacement cylinder lock with two keys.

We can email a PDF of the service manual if needed.