AMI W-120 WALLBOX JUKEBOX (DISPLAY ONLY) - Stock #5498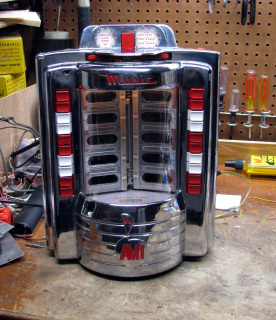 This is an ORIGINAL AMI W-120 WALLBOX JUKEBOX. It is non-functional and for display only.

The cover has been polished and the chrome has a bright clean finish. There is little to no pitting and there are light scratches.

The dome is new plexiglass.

The buttons have been cleaned and painted.

New Key and lockset.

The page set is original and can be used to display names and telephone numbers or any kind of titlestrip you want to make.

This comes with a transformer to power the lights and is properly fused. Ready to plug and light up.