NEW YORK CITY SUBWAY MAP OCTOBER 28, 2001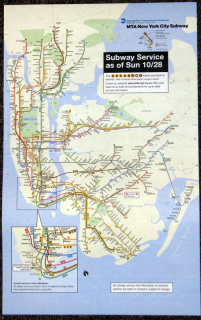 This is very collectible and RARE official New York City Subway map. It shows the reversal of the emergency temporary subway services because of the September 11, 2001 terrorist attacks on New York City. This map replaced an emergency services map dated October 1, 2001. A subway and regional map was issued December 2001 to replace this one.

Please note this is not a foldup map. It was posted in the train stations and has no fold marks, in MINT NEVER USED CONDITION ready for framing.