BUTLER PACKARD WALLBOX - STOCK #5654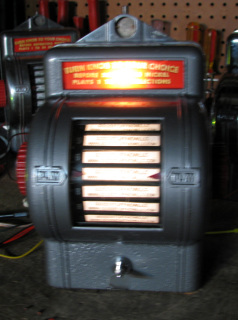 This is PACKARD BUTLER WALLBOX jukebox in hammertone gray finish. It has been completely restored and ready for use.

This wallbox requires a 6volt transformer to power the two #55 lamps. A connection wire has been added for easy hookup.

This wallbox requires a 24 selection hookup. The signal wire enters the wallbox (provided) and when the selection wheel (drum unit) is rotated it comes in contact with the respective selection number. When a coin (nickel) is deposited it completes the circuit to that particular selection.

A free play toggle switch has also been included. A press of the toggle completes the circuit to the corresponding selection number.

Complete with lock and key.