SEEBURG 3WA JUKEBOX WALLBOX – Stock #5097 UNRESTORED - RECHROMED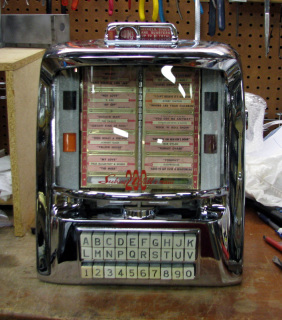 This is SEEBURG D3WA WALLBOX that is a good original wallbox that needs a total mechanical restoration.

Original lock and key are included (not installed)

This wallbox takes Quarters, Dimes and Nickels. Complete with all coin equipment. The coin box has been sandblasted and repainted gray hammertone and does not need restoring.

SINGLE SELECTIONS can be set on ONE PLAY for ONE DIME (one credit), THREE PLAYS for ONE QUARTER (six credits) and

EP SELECTIONS can be set on ONE PLAY for 15 cents (Dimes or Nickels) and TWO PLAYS for a QUARTER.

It is very easy to price any set of pages for SINGLE or EP pricing (1-0). This is the factory setting for the DCU10 dual credit unit. The coin credit indicators at each side of the program holder will indicate 5 cents credit-Another Coin Req'd (lower right pilaster), MAKE 10 cent selection only (lower left) and MAKE ANY SELECTION (upper left and right).

This wallbox can be wired with a "free play" momentary switch added to any of the coin solonoids.

The cover and top casting has been rechromed and in EXCELLENT condition with a mirror like finish.

I can also include a new decal for the PRESS LETTER and NUMBER. The red felt backing behind the Coin Instruction glass has been replaced with a new piece.

Any questions please ask before bidding as there are NO returns on this item. This item is owned by GoodStuffNowLLC.com


ADDITIONAL INFORMATION ON DUAL PRICING UNITS

Coins are deposited in a single entry coin chute and pass through a 5-10-25 cent slug rejector and then through the coin switches into the cash box. A nickel will register one credit, a dime two credits and a quarter six credits. The coin credit units can accumulate up to 24 credits. The pricing on these units was set at the factory and could not be changed without new parts or "jury rigging".

DCU10 units would charge SINGLE SELECTIONS at 10 cents each and 3 for a Quarter; EP SELECTIONS at 15 cents each and 2 for a Quarter.

DCU15 units would charge SINGLE SELECTIONS at 5 cents each and Six for a Quarter; EP SELECTIONS at 10 cents each and 3 for a Quarter.

Information panels (coin credit indicators) at each side of the program holder on the pilasters illuminate to indicate when coins were deposited. The lower right indicate "5 CENTS DEPOSITED, ANOTHER COIN REQUIRED in red". The lower left would indicate "MAKE TEN CENT SELECTION ONLY in orange" and the two upper would read "MAKE ANY SELECTION in green". There were variations of these depending on the pricing.

The DPU and DCU credit units (D meant Dual Pricing) were designed to allow for dual pricing. Any of the twenty selections for a given "number" (A1 thru V1, A2 thru V2 etc) could be set to either "single" or "ep" (extended play) pricing. Single pricing removed two credits and EP pricing removed three credits each time a selection was made. The titlestrip pages were designed to display groups by numbers (A1 thru V1, A2 thru V2 etc).